Ethylene-Vinyl Acetate Copolymer (EVA)
Ingredient :
Low Density Polyethylene.
Polyethylene vinyl acetate tables EVA (Ethylene-Vinyl Acetate Copolymer).
Calcium carbonate CaCO3 (talc).
Bridging, Foaming agent DCP etc.
Material from :
FORMOSA PLASTICS CORPORATION TAISOX® Ethylene Vinyl Acetate Copolymer (EVA) 7350M.
Characters :
EVA raw material contains tiny acid that might cause metal rusty if there is no rustproof treatment on the surface of tools.
EVA is inexpensive, easy to process, and light. It is applied to make commodity and industrial products.
EVA has excellent chemical resistance and solvents resistance, such as toluene solvent, soiled oil, pine fragrance, washing solvent, machins oil, and WD40 etc.
The bubble struction of EVA FOAM is independent and even. It is water non-absorbent, excellent recovery, lightweight, and impact-resistant absorbent.
Foaming type:chemically cross-linked
Foaming ratio:16±3%
Thickness:40 mm
Sheet Size:W1200 mm x L2300 mm
Hardness:35°±5°
Application:Upper layer
Advantage:Camouflage pattern consists of gray, black, and brown particles. The color blocks vary randomly.
(Few acid in EVA, metal tools need to be rustproofed well)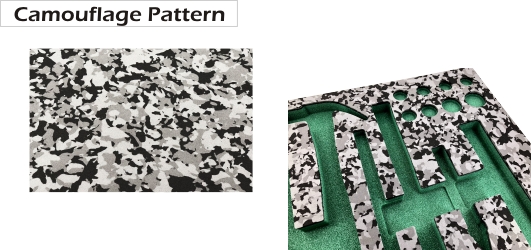 Foaming type:chemically cross-linked
Foaming ratio:16±3%
Thickness:50 mm
Sheet Size: W1200 mm x L2300 mm
Hardness:35°±5°
Application:Upper layer
Advantage:Good Hardness
(Few acid in EVA, metal tools need to be rustproofed well)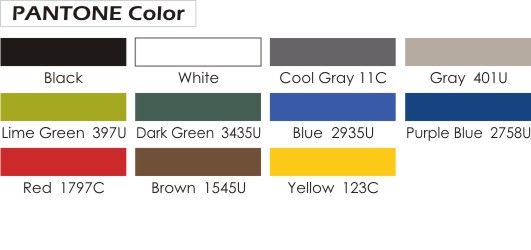 Foaming type:chemically cross-linked
Foaming ratio:23±3%
Thickness:82 mm
Sheet Size:W1200 mm x L2300 mm
Hardness:25°±5°
Application:Bottom layer
Advantage:Various optional colors
(Few acid in EVA, metal tools need to be rustproofed well)